Mexican Wedding Traditions: Things To Expect At A Mexican Wedding
If you have never experienced a Mexican wedding and have only been to wedding ceremonies in your own country, you may have no idea what to expect if you've been invited to a traditional Mexican wedding. Things can be even more stressful when it's your own wedding ceremony you're preparing for—for example, after meeting your future spouse online. So what does a wedding with a Mexican flavor look like? Here are the most important things to know.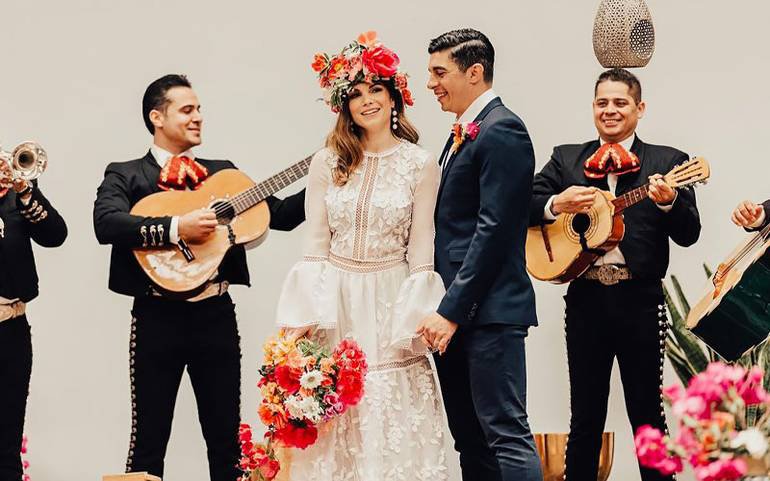 Mexican wedding ceremony traditions
Mexico is a country rich in different traditions, including wedding ones. Here are just a few of them:
Padrinos y madrinas—an older couple of wedding godparents who help the bride and the groom get ready for the special day.
A mass—an essential part of a Catholic wedding in any part of the world. It's performed by a priest and can go on for more than an hour.
Both parents walk the bride and the groom down the aisle because Mexicans believe that the parents should be treated and respected equally.
A Mariachi band is a staple of Mexican weddings, and couples often hire it not only for the reception, but also for the official part of the ceremony.
After the mass, the bride and the groom will present an elaborate bouquet to Virgin Mary to ask for her blessing of their union.
Mexican wedding dance traditions
Mexicans are definitely a nation that loves to dance. There are dozens of traditional dances known in Mexico, and many of them can be witnessed during a traditional wedding ceremony. There are even special dances for the bride and the female guests to perform during the bouquet tossing stage, and for the grooms and the male guests to perform before tossing the garter. These are the three other Mexican wedding dances to know about:
Processional dance—a dance that is a fun wedding parade that takes place on the way from the church to the reception location.
La Vibora de la Mar—a complex dance where the guests first dance around the bride and the groom and then dance under the bridge formed by the bride and groom's joined hands.
The money dance—a dance that happens closer to the end of the reception. The bride and the groom will individually dance with the guests, who will use pins to put money on their clothes.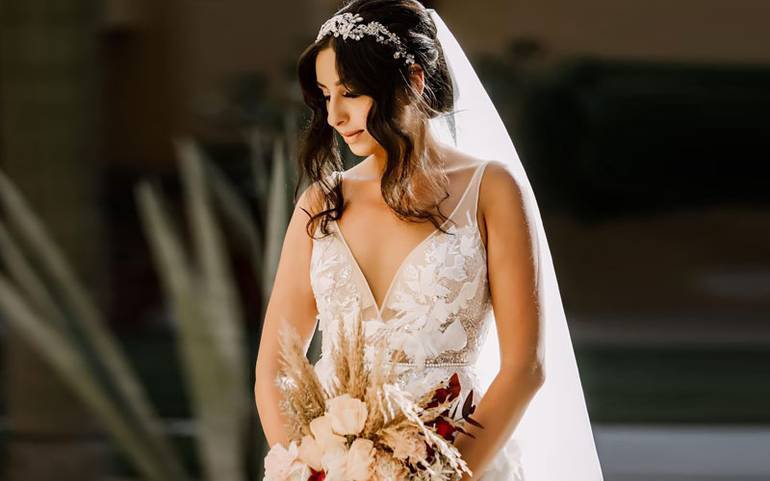 Mexican wedding traditions: lasso
One of the essential elements of a wedding in Mexico is a lasso. It doesn't really resemble the rope lasso you are probably imagining right now—it's a much more delicate item that resembles a rosary and is made from white beads and flowers. During the ceremony, the lasso will be placed on the bride's and the groom's shoulders in the shape of figure 8.
In the Catholic faith, figure 8 is a symbol of new beginnings, and the wedding is nothing if not a new beginning for a couple that's in love. The lasso will then stay there until the very end of the ceremony, and typically only a priest can remove it.
Mexican wedding traditions: who pays?
If you've ever planned a wedding or taken part in the process, you know that this can be a costly endeavor. Unless you opt for a very small ceremony with just a couple of guests or unless you live in a tight community where it's a tradition for everyone to take part in the preparations, every aspect of the wedding is going to cost money, from the wedding attire and flowers to the music band and a wedding cake. So who normally pays for the wedding when Mexican people are getting married?
In Mexican wedding culture, the bride's side of the family—specifically, her father—covers most, if not all of the wedding expenses. Some parts of the wedding expenses may be covered by the groom's side of the family. Of course, this is not a law, and if the bride and the groom want to make a financial contribution, or if they have a lavish wedding in mind and know that their parents can hardly afford an expensive celebration, they can chip in or even relieve their parents from the paying duty.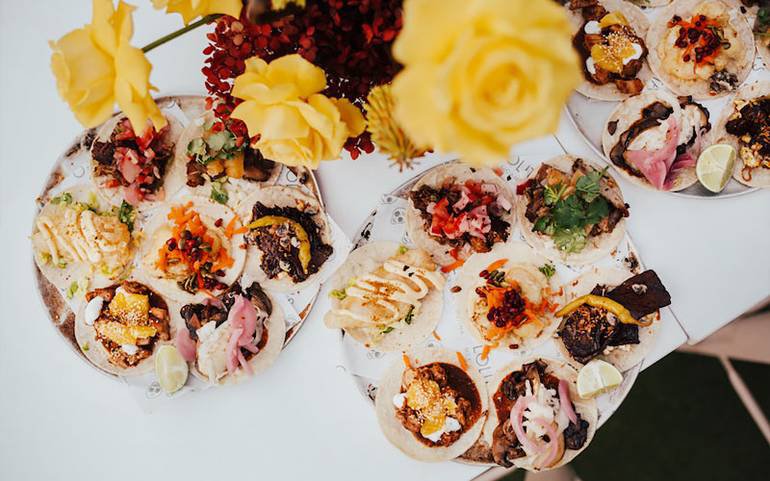 Traditional food on Mexican wedding
Food is not the only element in a Mexican wedding, but it's among the most important ones. This is actually true for most weddings around the world: when the family gathers around a table to celebrate love and unity, a delicious, authentic dinner is the best way to make this time special. You can easily guess that during a wedding Mexican reception, everything from appetizers and drinks to main courses and desserts, is an homage to Mexican food tradition. These are the dishes you will often see at a Mexican wedding reception:
Appetizers: salsa with nachos, shrimp ceviche, guacamole with tostadas, bite-sized tacos, jalapeño poppers, pigs in blankets.
Main course: grilled meat/chicken/fish, empanadas, tamales, rice, various soups and stews.
Desserts: tres leches cake, grandma's almond cake, spice, nut, and rum cake, polvorones, wedding cake.
Mexican wedding customs: Arras
Arras, or 13 gold coins, is something you will see at every Mexican wedding ceremony carried out in a Catholic tradition, but not many people actually know how it started and what it symbolizes. The tradition of arras looks rather simple: during the mass, the groom has the priest bless a tray or a beautifully decorated box with 13 gold coins. He then presents the box with the coins to his bride. Now we will tell you what this tradition symbolizes and how it became such a staple of Mexican nuptials.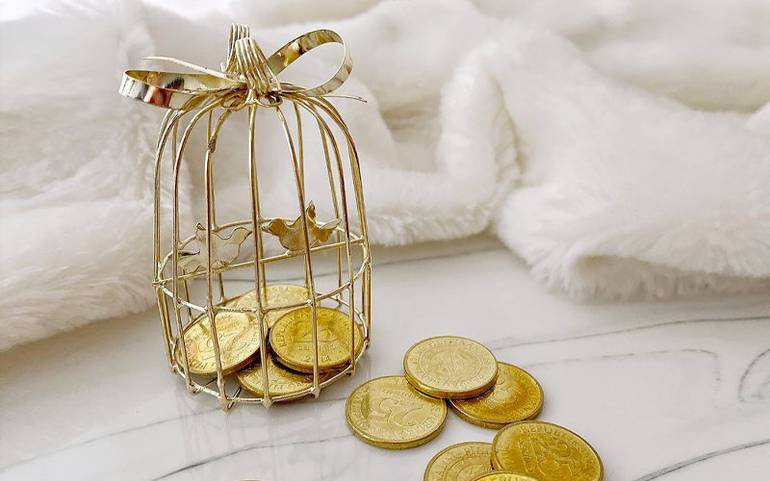 This wedding custom originated in Spain and is many centuries old. Needless to say, it went through a lot of transformations. Historically, the 13 gold coins were given as a dowry, which is not a thing you'll often see at a modern wedding. Moreover, there used to be 12 gold coins and 1 platinum coin back then, which is something that was simplified over the years to just 13 gold coins.
In modern Catholic weddings, the 13 gold coins given by the groom to his bride symbolize his willingness to provide for her financially and share his wealth with her. This is purely a symbolic gesture, but it's still a crucial part of the wedding ceremony.
To sum up
Planning a classic Mexican wedding ceremony and reception can take a lot of time, effort, and even money, but the result is always worth it. You get to spend time with the people close to you and celebrate your marriage to the woman of your dreams. Both you and your wife will cherish the memories from this special day for years, and who knows—maybe you can start a couple of new Mexican wedding traditions of your own!